Honor the Treaties is an organization dedicated to amplifying the voices of Indigenous Communities through art and advocacy & Sticker Robot is printing and giving away vinyl stickers (designed by Ernesto Yerena & Shepard Fairey) to help support this important cause.

You can get a Free Sticker (info below) or you can order some Wholesale Stickers from The Sticker Robot Store.

An Awareness Campaign
This campaign was started by our friend Aaron Huey, a National Geographic Photojournalist who has spent much of the last decade working on the Pine Ridge Ridge Indian Reservation in South Dakota. His cover story for National Geographic on the Oglala Lakota of Pine Ridge appeared in the magazine in August 2012.
Through his powerful photography and genuine friendships with the people of the Reservation, Aaron has documented not only the hard reality of Prisoner of War camps now known as Reservations, but also the traditional, culturally rich heritage of the Lakota people.
Aaron and The Artists of HTT hope to expand this awareness campaign into one that will inspire genuine action on issues as diverse as the treaty rights battles in the Black Hills to the legal battles to uphold religious freedoms of Native American prison inmates.
A broad range of Treaty Rights struggles, being addressed by the best Native Artists in the country, can be explored in more detail at www.honorthetreaties.org

In 2010, Aaron gave a very thought provoking (and subsequently viral) TED Talk. In 2012 a film about his work there his film, "Honor The Treaties" was launched. Later, in a creative collaboration between Shepard Fairey and Ernesto Yerena, Aaron unveiled a Street Art Campaign, where his photographs were used as source to create these stickers.
---
There are 2 ways to get some stickers.
If you'd like a free sticker, follow the details below. If you would like more stickers, we are offering them at wholesale pricing through the Sticker Robot Store.
---
How to Get A Free "Honor the Treaties" Vinyl Sticker
The Black Hills Are Not For Sale sticker is no longer available
1. Leave a comment Below.
2. Send us an S.A.S.E. and we'll drop one in the mail for you. (Make sure to use a 5″ X 7″ return envelope or we'll need to fold your sticker to make it fit.)
Sticker Robot / Honor the Treaties!
P.O. Box 1189
Woodacre, CA 94973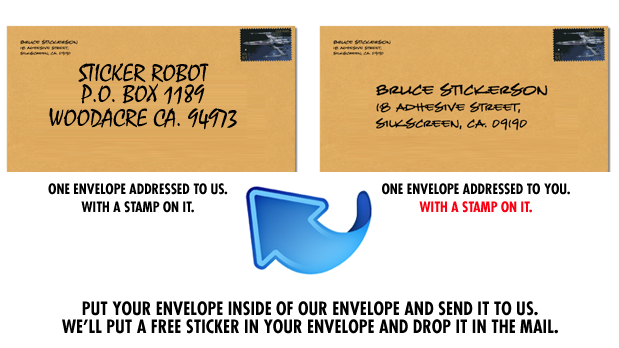 ---
Download the High Res Artwork!
You may also download the high res artwork here and use to help spread the message!
---
Wholesale Stickers
Visit the Sticker Robot Store to purchase sealed 10 packs of Stickers.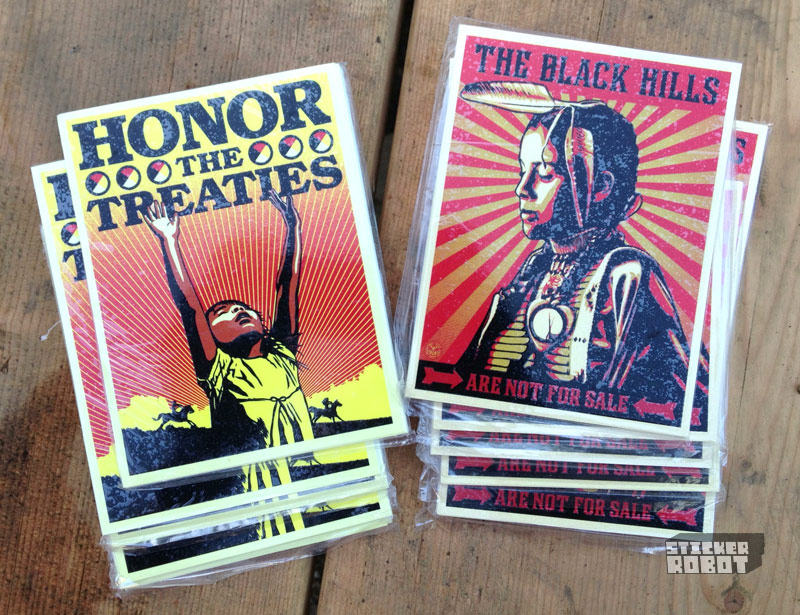 ---
Share the Page, Leave a Comment and Tag those Sticker Sightings…
Because this project is close to our hearts, we are printing and disseminating these stickers, 100% profit-free. We encourage you to share this page with your friends and help us to get these stickers into the hands of as many people as we can.
Please leave a comment below and remember, if you see these stickers in the wild, please take photos and post them to Twitter or Instagram with #honorthetreaities