On a regular basis we'll ask a new sticker artist a series of 10 questions. To keep things simple and to engage in a deeply philosophical, long term case study of the scientifically complicated "Sticker Artist's mind," we've decided to leave the questions the same every week.
Gregg Gordon is an extremely talented graphic artist and designer, who makes a living doing what he loves, making art and selling merch. Gregg has been printing his stickers with us for years and we can always spot one of his unique creations. This week we asked Gregg aka "GIGART," purveyor of fine silkscreen stickers and posters (among other things) to sit down and answer 10 questions..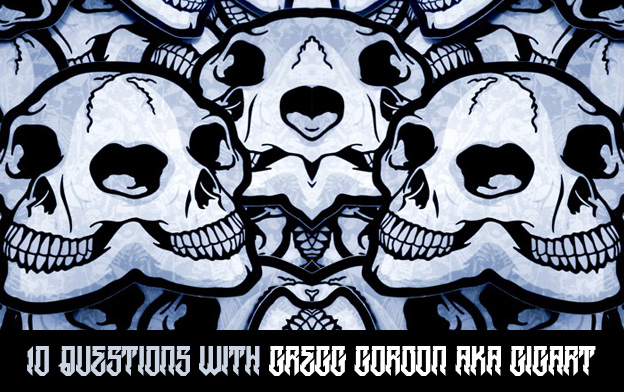 1. what makes a good sticker design?
I am a fan of really cool colorful illustrations on stickers. I love when they are die cut to the shape of the image and have nice details. And not too small…I am more a fan of artwork on a sticker, than text or words, like bumper stickers…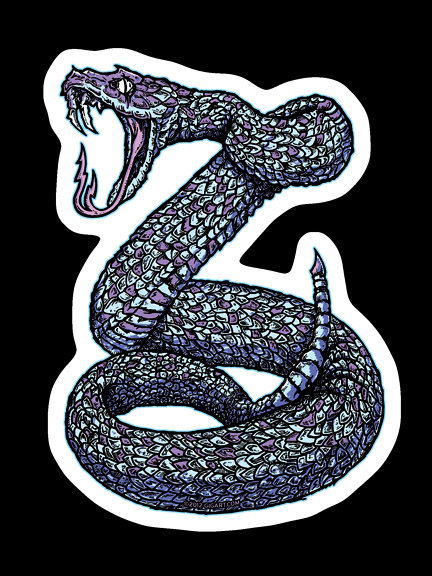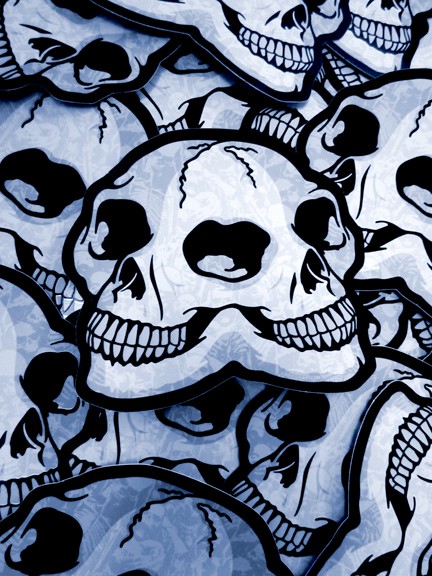 2. what do you do with stickers anyways ?
Well the ones that I have printed with Stickerobot have all been sold as GIGART merch, and given away as promotional items. I have a handful on my flat files that all my posters are stored in, but not too many anywhere else.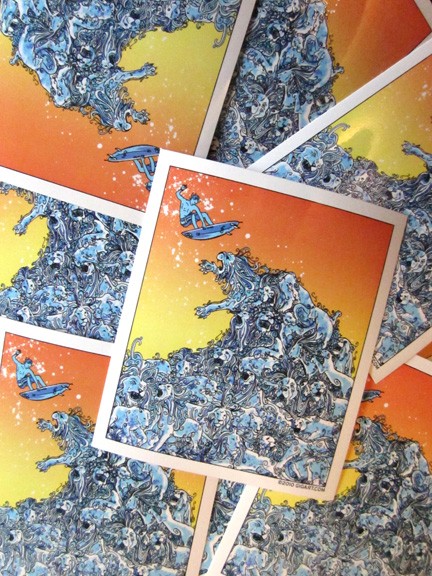 3. if you could hand one of your stickers to any one person, who would it be ?
Maybe give Bruce Lee a few of my Tiger Samurai Stickers!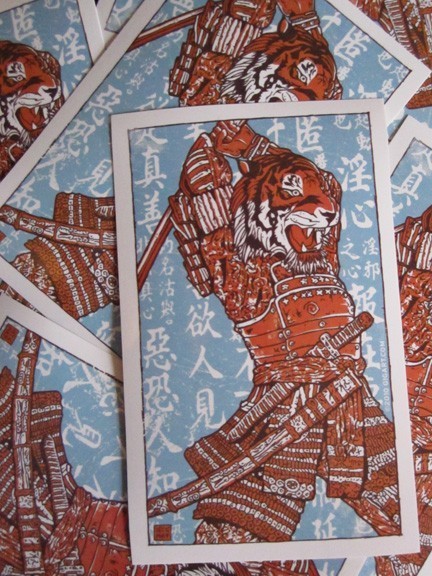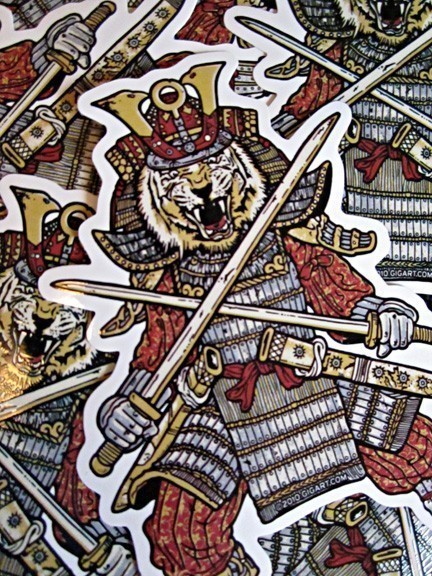 4. silkscreen or digital ?
If I have a choice, always silkscreen. I have been creating rock posters and merchandise for over 16 years, and try to silk screen all of my posters. The posters that are digital are for clients, such as radio stations that want 10,000 printed to give away, for example. I can use as many colors as I like when digital, but I love the hand crafted feel of silk screen more.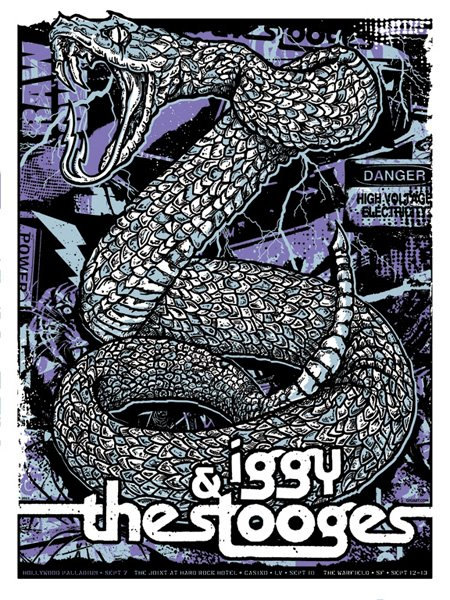 5. mp3 or cd ?
Unfortunately I cannot remember the last time I bought a cd, so I guess I am all mp3. But then I cannot remember the last time I bought an mp3, kinda all about Spotify lately. (editors note: it took us 10 sticker interviews to realize it, but this question is so 1997. forgive our dated inquiries…)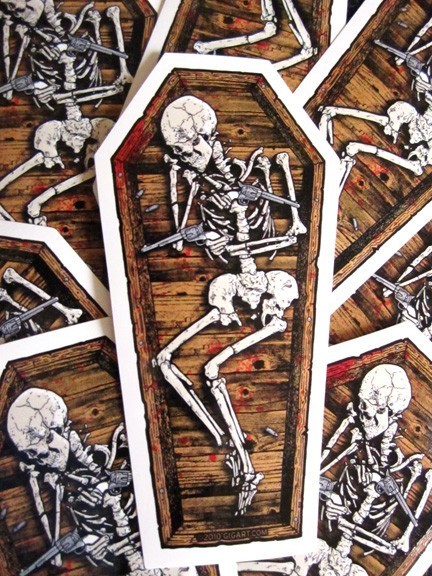 6. what is the last book you read ?
Ha, well since I have a new addition to my family that book would be, Night-Night, Little Pookie by Sandra Boynton. Kinda gets read more than once a day.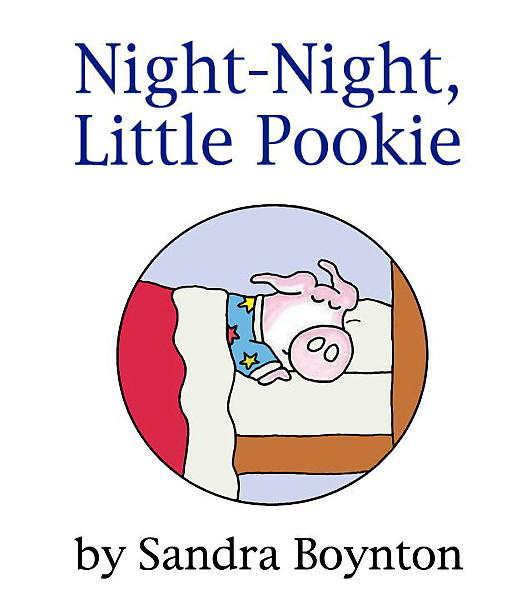 7. tell me 3 artists you like
I am a big fan of illustrations with great detail and concept. Three artists that really inspire me with every poster they put out would be…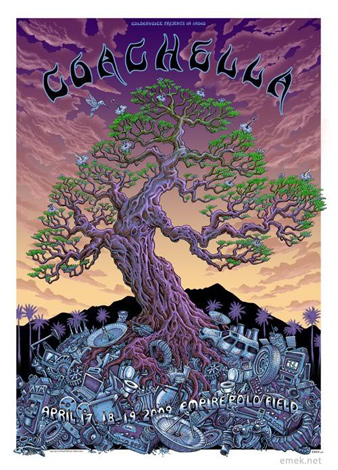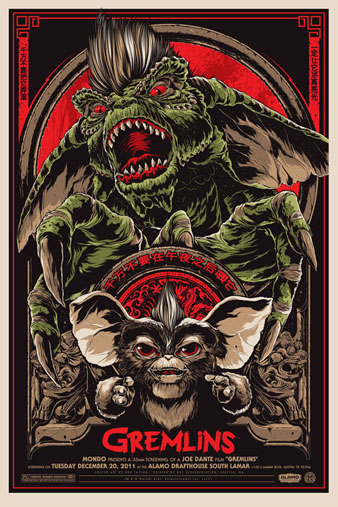 and Methane Studios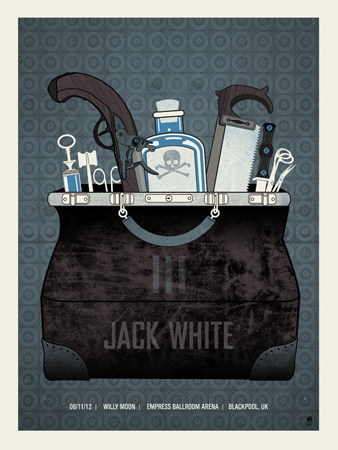 just to name three, there are more for sure…
8. tell me 3 websites you like
As an artist who wants to get his work out there, I am a big fan of Etsy
It is a website geared to hand made items, but what I like so much about it is how well the site is put together and user friendly.
I really wish I could get my GIGART site to work as well, and get so much traffic. So I like that site from a seller perspective, but also am seeing more and more cool art and items listed, which is great if you are looking for art.
Gigposters.com is still one I go to daily. Since other social media sites have gotten so big, this site doesn't have the traffic I remember, and the personal interaction I used to get involved in, but the work is still there. I check all the time to see the latest posters by the many artists out there. I still think it is a great place to see the full body of poster work. Everyone should get back there and start posting.
The other poster site that I find myself checking all the time now is Inside The Rock Poster Frame
I use this site, like I do Gigposters.com, to see what the latest work is out there by my peers. This site seems to get the latest type of work I am into, as soon as it has been put online…not sure when this guy sleeps.
9. what would you like 1000 of ?
I would like 1000 extra hours of sleep. I'm tired.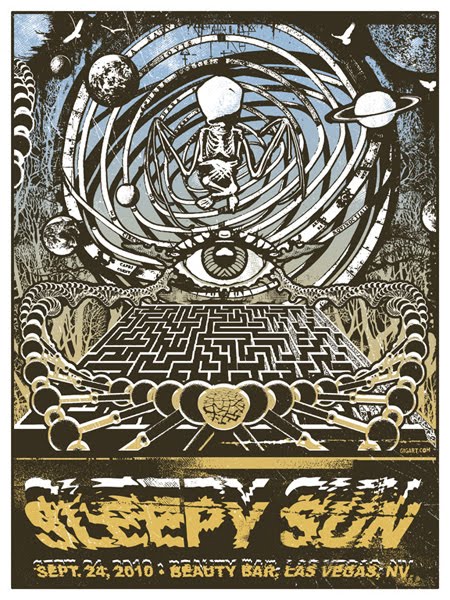 10. what are you working on now / what's next for you ?
Right now I am finishing up all the artwork for the Bay Area's Radio Station, Live 105, and their Not So Silent Night Concert. I do all the graphics for this station and this Holiday concert is the last event this year. All the logos, ads, and merch are done, I am just finishing up a poster and some passes. Should be a fun event.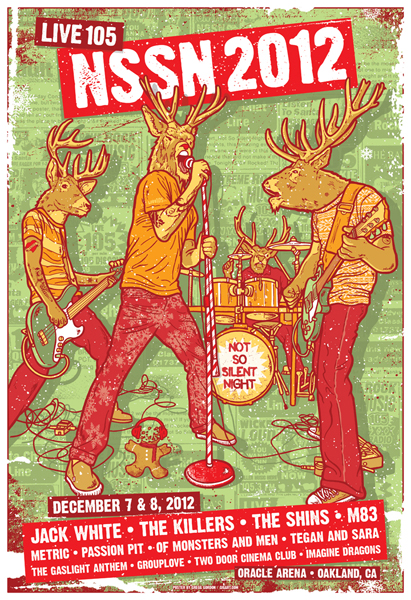 My big hope that I have put off and off and off, is to finally get a new GIGART website put together. So I hope to spend some time really making that happen. It has to be what is next for me.
Thanks Gregg. Here's a look at an artist selected group of Gregg Gordon/GIGART posters from over the years. Each of these was created by Gregg and hand silkscreen printed. Super Sweeeeeet!
For more information on Gregg Gordon and GIGART, check the following links
GIGART Site | Gregg'sPoster Archives | Buy Gregg's Custom Stickers | GIGART on ETSY |