On a regular basis we'll ask a new sticker artist a series of 10 questions. To keep things simple and to engage in a deeply philosophical, long term case study of the scientifically complicated "Sticker Artist's mind," we've decided to leave the questions the same every week.
We were fortunate enough to have the opportunity to sit down with the creative and prolific artist formerly and currently know only as… Skinner.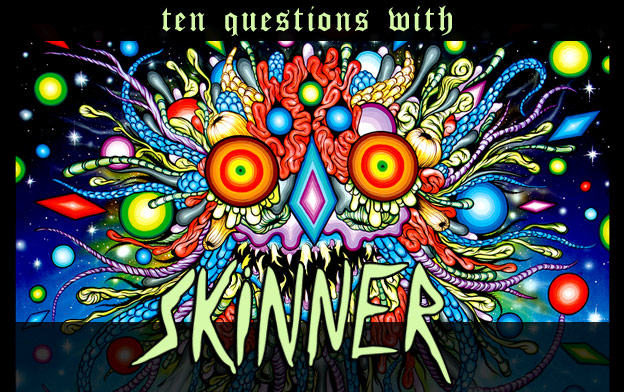 Skinner makes mesmerizing art and lots of it. He draws and paints, sculpts and plays music, he shows art in more solo shows and group shows than we can count.
He releases beautiful hard bound books, halloween masks, vinyl toys, prints and posters, jewelry and accessories and of course stickers galore… Basically, the guy hasn't stopped drawing since he was 3 years old. And as such, he turns out some amazing work.
Before we ever met face to face, Skinner called me a left a message about saving the world. I promptly made it into an amazing website, quite honestly some of my life's best work to date… Soon thereafter we began a self proclaimed legendary meeting of the minds and came up with the world's first "SKINNER STICKER PACK! (*Series 1, for kids.)"  
So We figured it was high time to Sit down with Skinner and ask him 10 Questions…
1. what makes a good sticker design?
I think if you look at old school stickers, a good design is one iconic image.. One cool symbol.. A unicorn, a dragon, rat fink.. I think if you look at what was awesome in the 60's it was an image with a little slogan… Monte who predates big daddy Roth would do a creepy primitive zombie and write " lover boy" underneath it… Clever shit a little kid with a flat top would put on his bike while he ride around putting firecrackers up frog butts.
I think stickers are iconic miniature pieces of art.. That's what makes them good.. The ones we did for series 1, are little reproductions of some of my iconic apocalypse visions.. Perfect for bad children.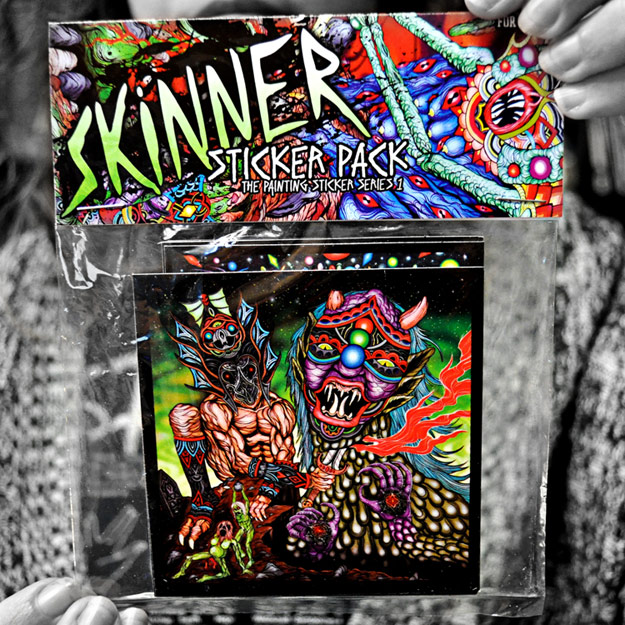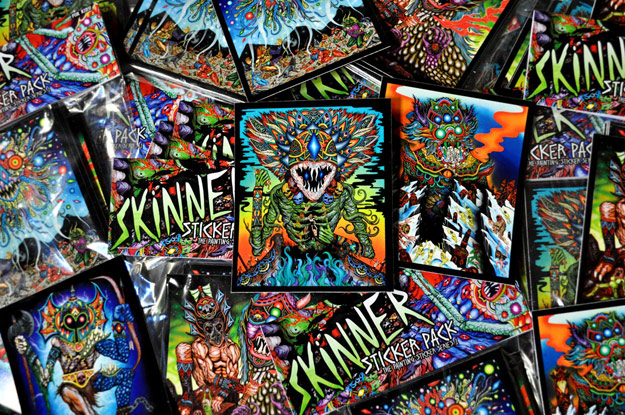 2. what do you do with stickers anyways ?
I put them up so people can look at them.. I give them away.. I throw them at police officers. I put them on my phone.. I had a little sticker book when I was young.. A bunch of dinosaurs and monsters.. My sister had one full of unicorns and hot air balloons.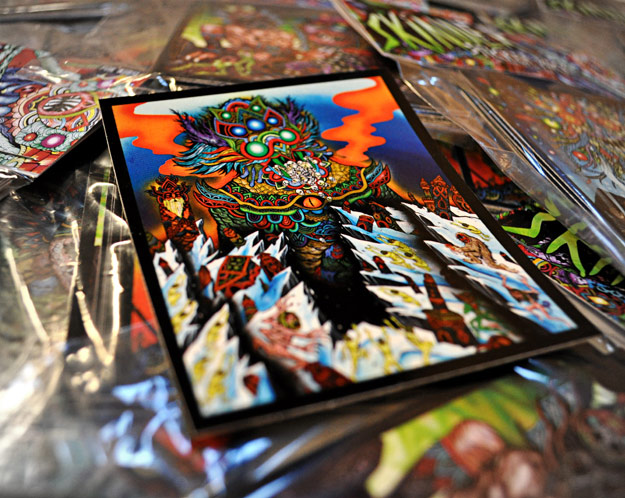 3. if you could hand one of your stickers to any one person, who would it be ?
A little kid.. Any little kid who looked like they had the spark.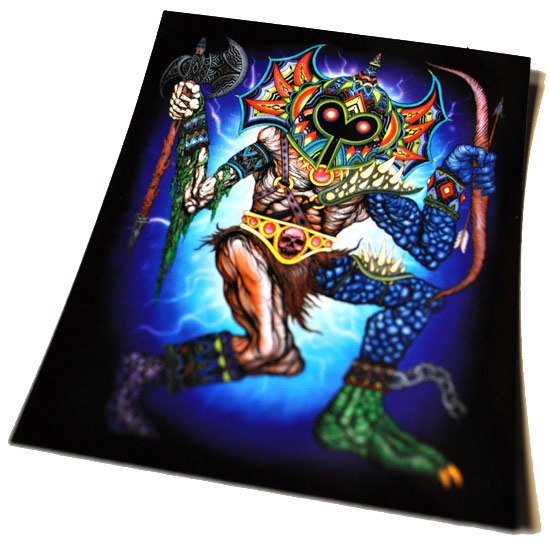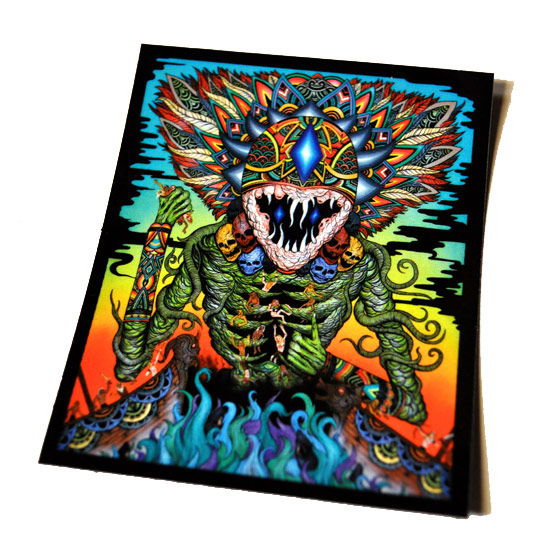 4. silkscreen or digital ?
Well digital is cool but basically once you do really good drugs or eat really good food you don't go back so yeah, silk screen is my choice.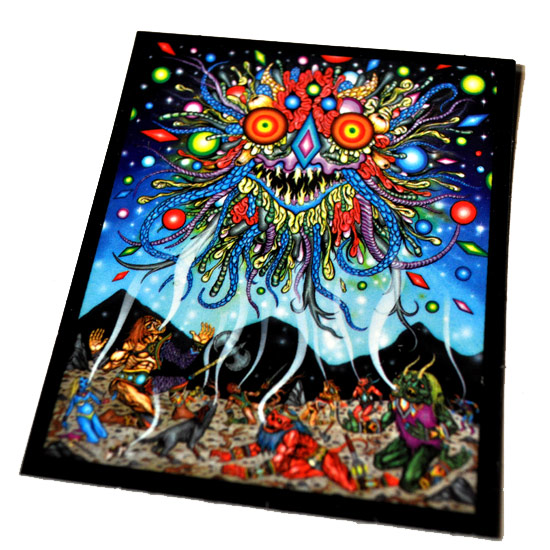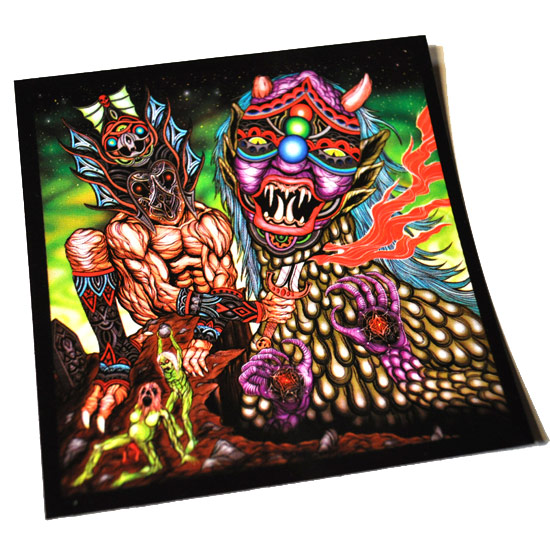 5. mp3 or cd ?
Cd because I don't know how to upload or download.. I also enjoy the physical act of going through cd's to pick one out.. Or look at the album art. I just got the DEATH reissue and it has all this reading about the making of the album and interviews inside of it that you lose in an mp3.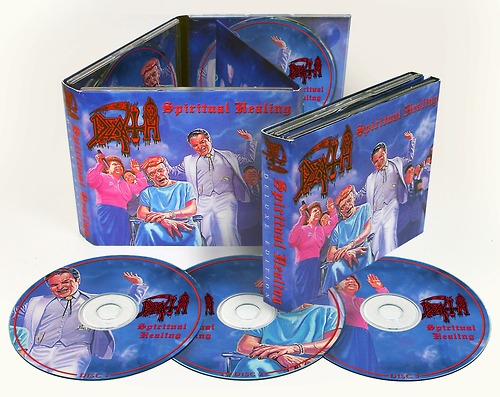 6. what is the last book you read ?
7. tell me 3 artists you like
There's a lot, hmm.. some recent favorites: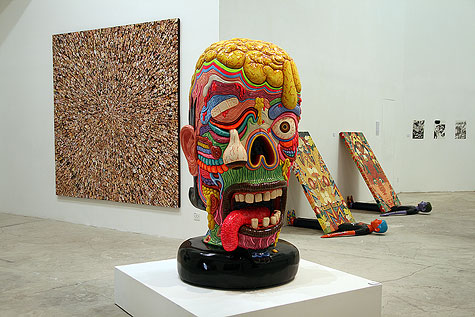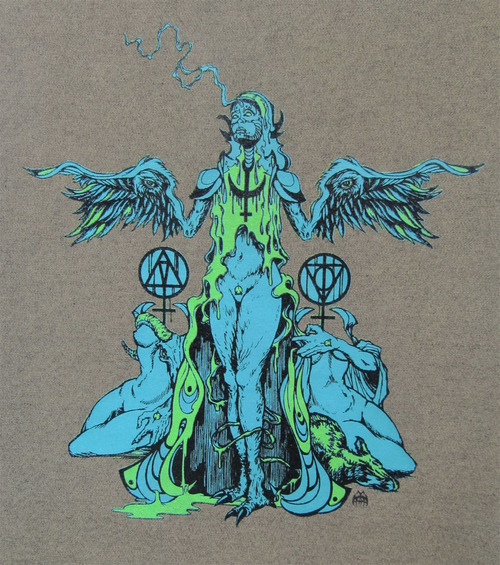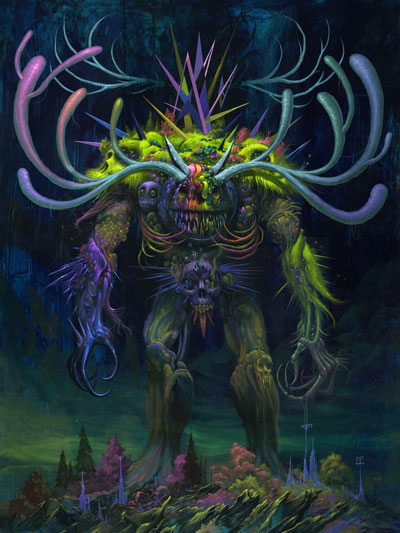 8. tell me 3 websites you like
9. what would you like 1000 of ?
Free hours to get as creative as possible.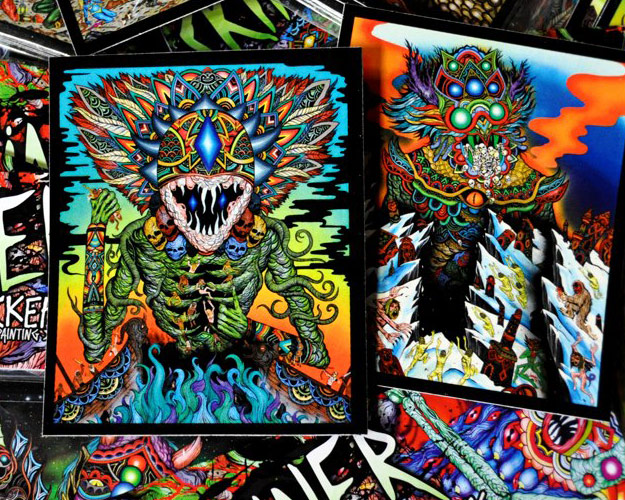 10. what are you working on now / what's next for you ?
Well for right now I'm keeping up with Critical Hit, my company.. Basically it's humorous and Fantastical stuff I'm known for but instead of doing it for a bunch of companies or bands I just do it for myself, so I can pick and choose what I want and have more time to have art be a catharsis instead of a means to an end, economically.. The unamerican dream.. Huh.. I think I'm going to pursue this Unamerican dream.. I like that..
But yeah I'm doing my little weird webstore company where I sell prints, shirts, jewelry, patches, STICKERS!, toys, masks, skateboards… Everything I have designed…
In the meantime I am working on an animated project with the director of Metalocalypse, Jon Shnepp, murals like fuck, toy design, commercial animation, traveling, playing music, finishing up my stupid psychotic dance album, filming commercials for Critical Hit.. Trying to make time to do life enriching stuff with my girlfriend Kristie.. She's my partner in life and has been extremely insightful and helpful in partnering with me in Critical Hit.. It's fucking rad.. She's very patient with me. With my Unamericaness! Hahaha!
I think now is a good time for the readers of this interview to do a quick Google search for Skinner Art. just wow.
---
And for your education and amusement, here are some images from Skinner's "Lurker Series" which may one day become custom silkscreen stickers of their own…
---
Check this RAD animation for Santa Cruz Skateboards that Skinner did the Artwork for. Directed and Animated by James Dirschberger & Kori Valz.
---
 Remember! Make sure to leave a comment below!  Skinner himself will pick a winner and send them a Skinner Sticker Pack!
Go Buy Some Skinner Sticker Packs Here: They are Series One and Won't last too long.
For more information on Skinner, check the following links: Skinner's Website | Skinner's Store, Critical Hit | Skinner on Twitter