On a regular basis we'll ask a new sticker artist a series of 10 questions. To keep things simple and to engage in a deeply philosophical, long term case study of the scientifically complicated "Sticker Artist's mind," we've decided to leave the questions the same every week.
Tyler Stout is an awesome poster artist, an exceptional illustrator, an absolute cinephile and as it turns out, a pretty damn nice guy. Oh and it just so happens, he's a bit of a silkscreen sticker fanatic too…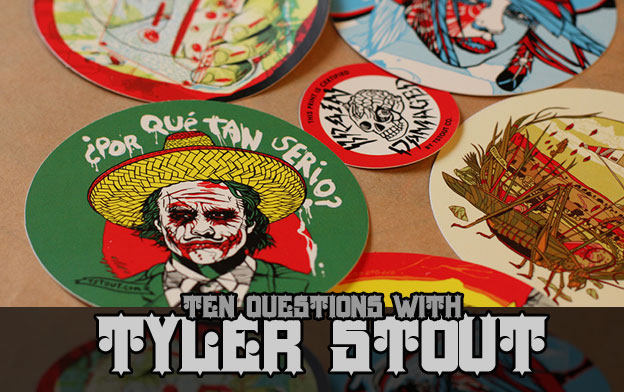 Among the many concert posters that Tyler has created for bands like Pearl Jam, The Black Keys, Phish, Flight of the Conchords, and many others, Tyler makes movie posters… Lots and lots of movie posters.
He is well know for his work with the bustling, poster-producing powerhouse (and proud Sticker Robot customer,) Mondo, where he and other artists create officially licensed, limited edition posters for movies both old and new. Every time a new poster is released, hundreds of people clamor to obtain a copy. Tyler's style is unmistakable. His attention to detail is Remarkable. And his posters sell out as soon as they are released.
Tyler has been printing stickers with us for years. He mainly prints round vinyl stickers, which he gives away to fans and includes in his poster orders.
Tyler is awesome. We are big fans of his work. So let's get down to it… 10 Questions with Tyler Stout.
1. what makes a good sticker design?
its probably different for everyone, but for me it's something that i see somewhere that makes me lean in for a closer look.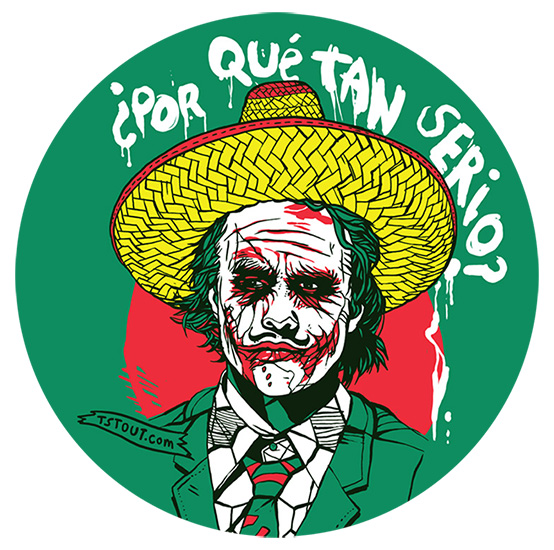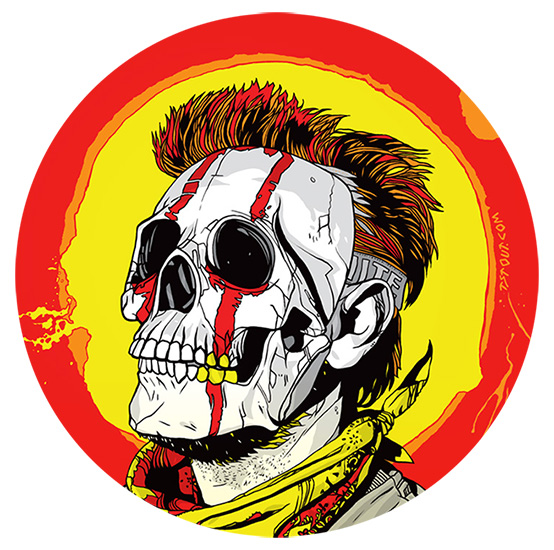 2. what do you do with stickers anyways ?
i give them out to people, i sell screenprints and they're a fun addition people seem to enjoy. also my kids are in sticker mailing clubs and they trade with other kids.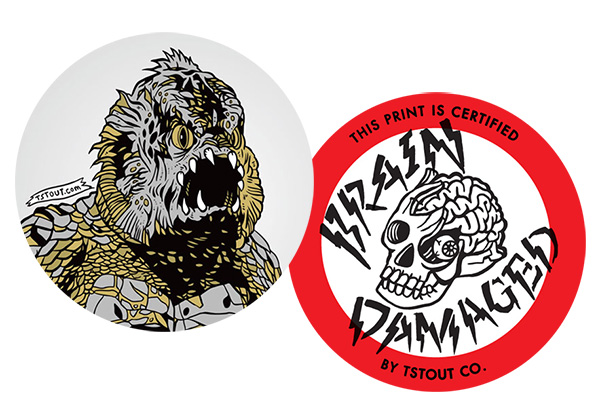 3. if you could hand one of your stickers to any one person, who would it be ?
probably my great great great great grandson. which would involve either a super long life or time travel. win/win.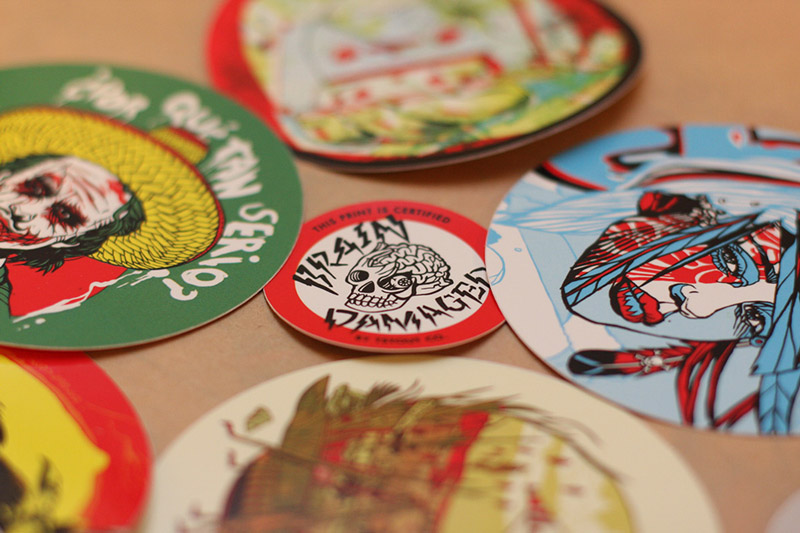 4. silkscreen or digital ?
everything good i've ever done has been silkscreened, so for me its the way to go.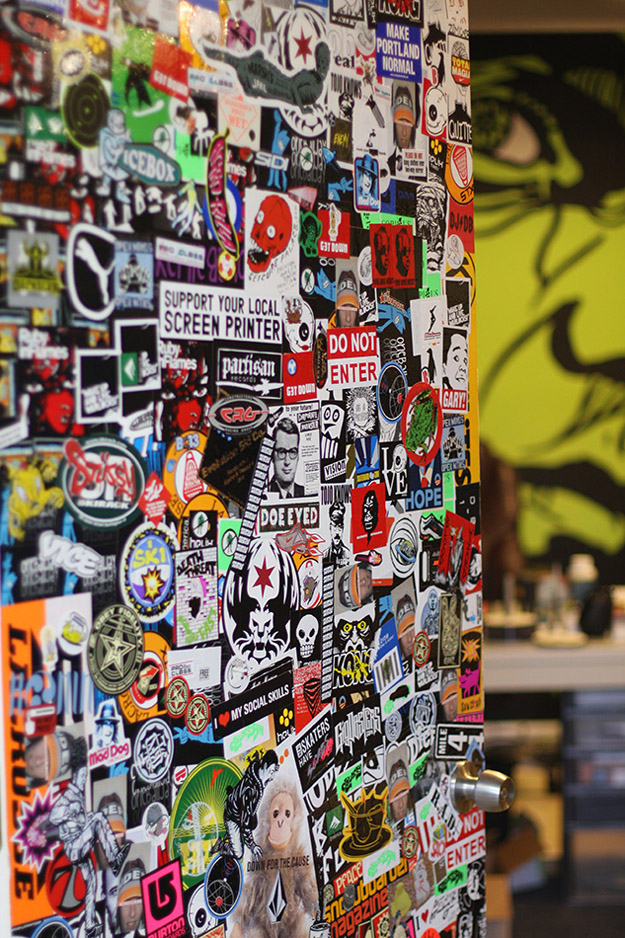 5. mp3 or cd ?
if i walked into a room and it had an ipod and a record player, i'd choose the record player, the quality is better. but for convenience, mp3s are what i end up listening to.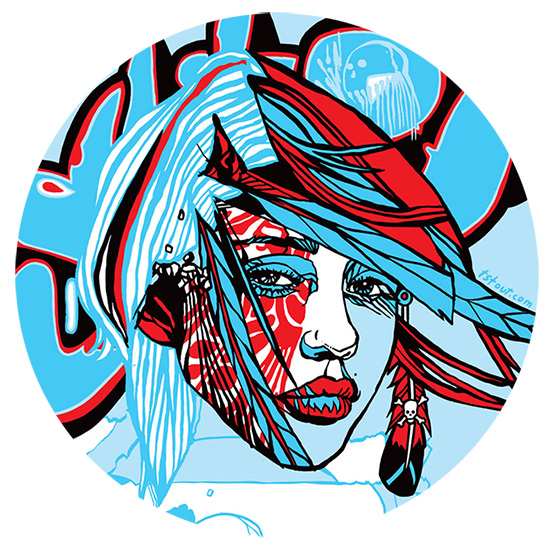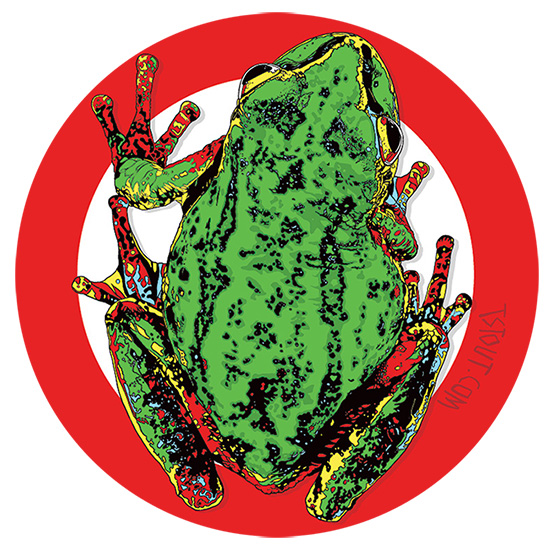 6. what is the last book you read ?
a friend got me moebius' silver surfer collection, so either that or brian wood's DMZ series.
7. tell me 3 artists you like
too many to list, but three i've liked recently are
Keegan Wenkman, a great printmaker in portland, or
http://www.keeganwenkman.com/
Matteo Scalera – who i had the joy of seeing work on a drawing in person
http://matteoscalera.deviantart.com/
Fiona Staples, who everyone loves
http://fionastaples.tumblr.com/
8. tell me 3 websites you like
and that one movie website….can't remember its name…..
http://collider.com/
http://www.slashfilm.com/
http://www.aintitcool.com/
http://badassdigest.com/
http://www.chud.com/
9. what would you like 1000 of ?
1000 days of swimming with my kids. they love that.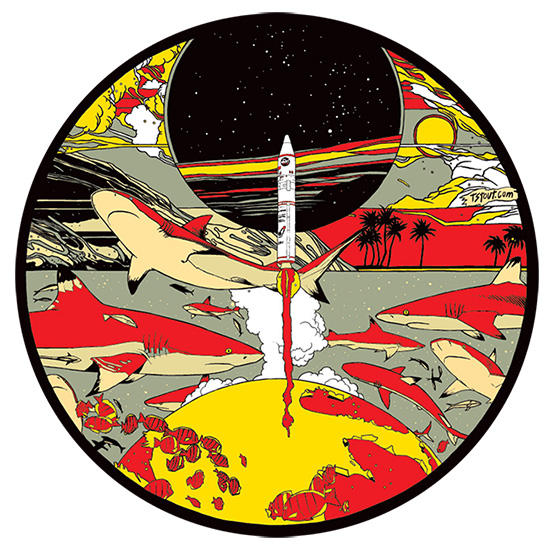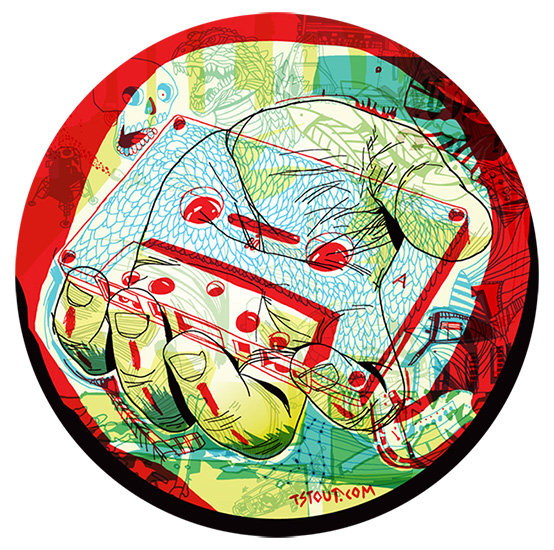 10. what are you working on now / what's next for you ?
hmm… good question, what should i be working on right now….i actually have a gallery show with ken taylor at mondo's gallery in austin texas coming up, so my time and efforts are being channeled into that, probably fruitlessly, but i'm trying.
—
For more information on the world of Tyler Stout, check his Website – In the meantime, here's a look a some of Tyler's limited edition, silkscreen printed Movie posters. awesome.
Please leave a comment below and let us know what you think about our ongoing Sticker Artist Interview Series!