On a regular basis we'll ask a new sticker artist a series of 10 questions. To keep things simple and to engage in a deeply philosophical, long term case study of the scientifically complicated "Sticker Artist's mind," we've decided to leave the questions the same every week.
Ten years ago, a simple Sticker campaign called "You Are Beautiful" quietly began with 100 stickers. Since then, over a half million stickers have traveled around our globe….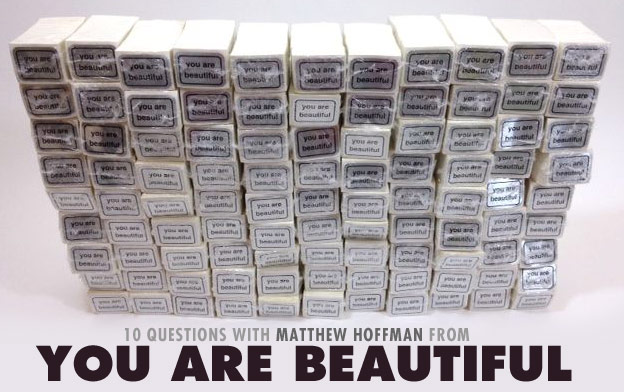 From coast to coast, and around the world, the wonderfully positive, smile-inducing You Are Beautiful Sticker Campaign has evolved from a pocketful of stickers into a universal public art campaign, manifesting block long murals, public installations, and exhibitions at cultural institutions involving thousands of artists.
And now after all these years, Matthew Hoffman, the humble creator of this wonderful sticker/art campaign is embarking on a new adventure… A book documenting the project's journey over the past 10 years. And he needs our help! 
In fact, a donation of $10 towards the kickstarter campaign will get you a credit in the book AND 125 You Are Beautiful Stickers
… Seriously, that's a sticking bargain!
We printed some miniature clear vinyl bumper stickers for YAB years ago and we have supported the sticker campaign since it began… We're so happy Matthew is making a book and we have some new clear vinyl stickers being printed to celebrate!
Anyways, now it's time to sit down for 10 Questions with Matthew Hoffman, The Creator of "You Are Beautiful."
1. what makes a good sticker design?
I've always designed You Are Beautiful stickers to purposely look generic and plain, to blend into their surroundings with other signage and labels. They become a positive intervention, when someone sees the message hiding in plain sight.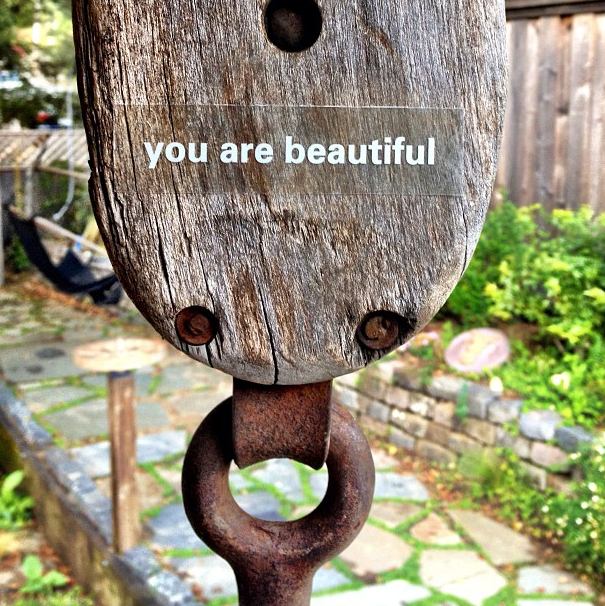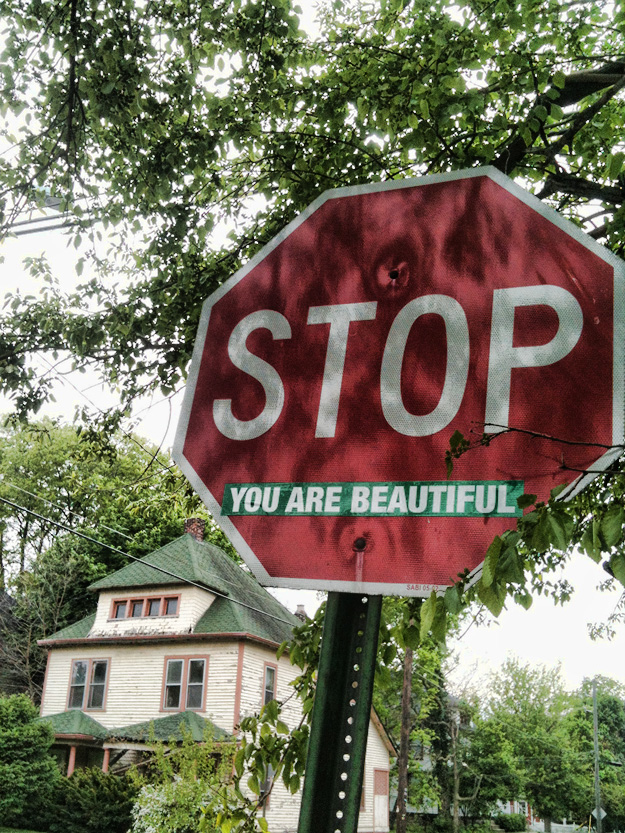 2. what do you do with stickers anyways ?
Stickers are incredible vehicles to say something to the world. They're small, they stick to things, you can hand them out…And they're fun.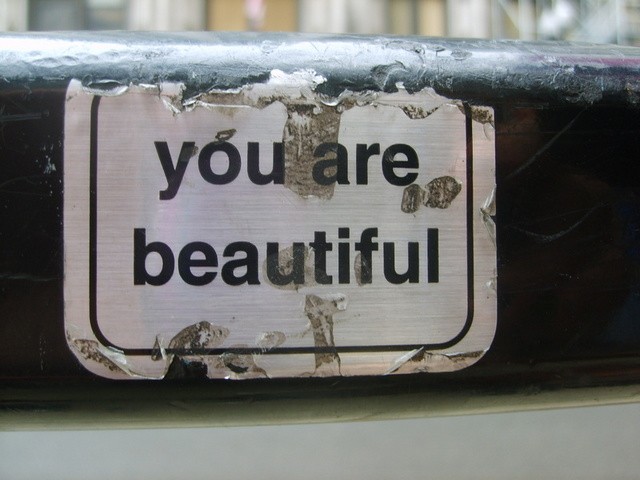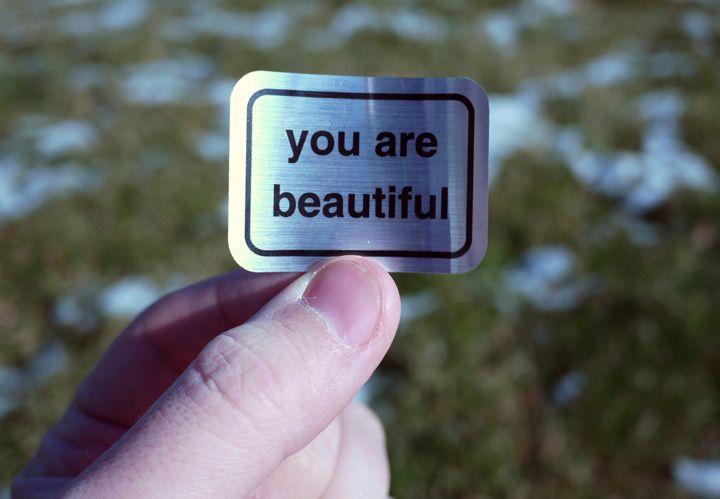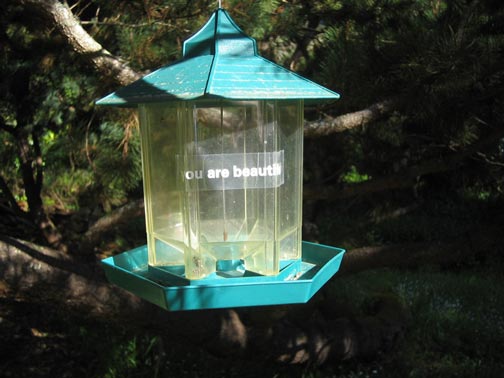 3. if you could hand one of your stickers to any one person, who would it be ?
My goal is to hand one of these stickers to each and every person. Likely, my arm would get tired first…So I'd like to get them into as many hands as possible, who will share them with the next person, and on and on.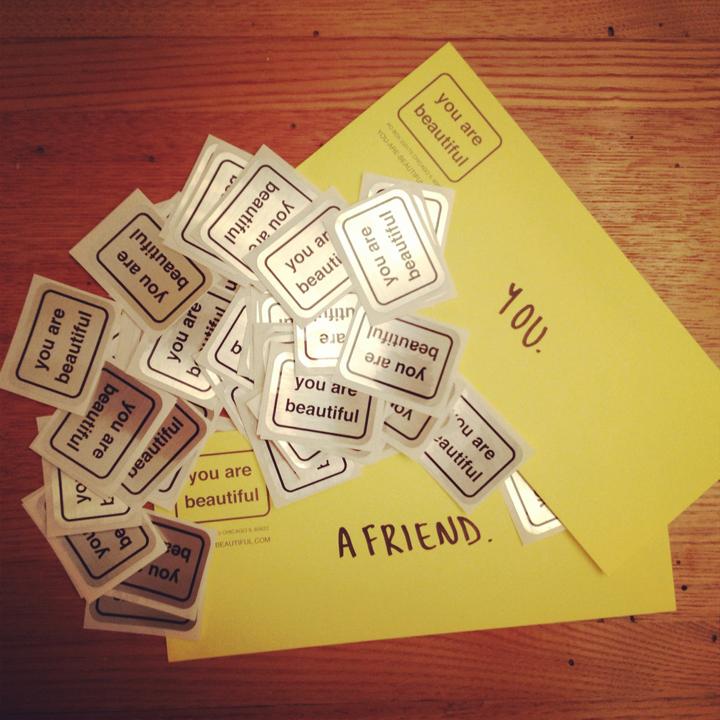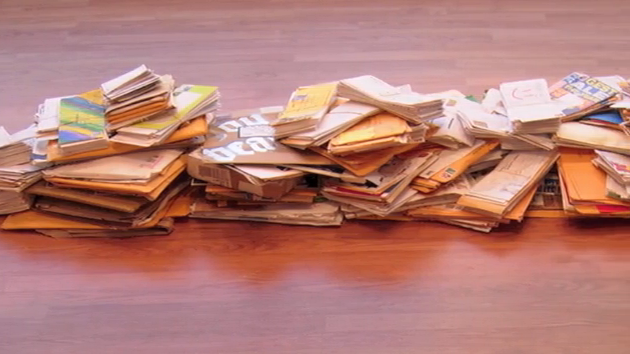 4. silkscreen or digital ?
Whatever it takes.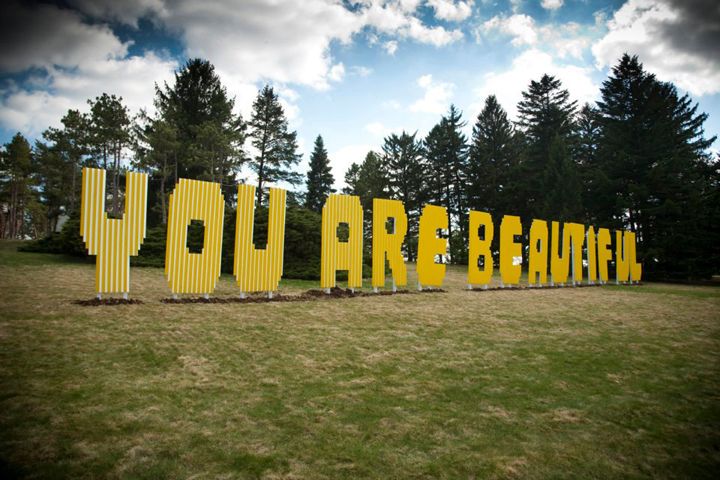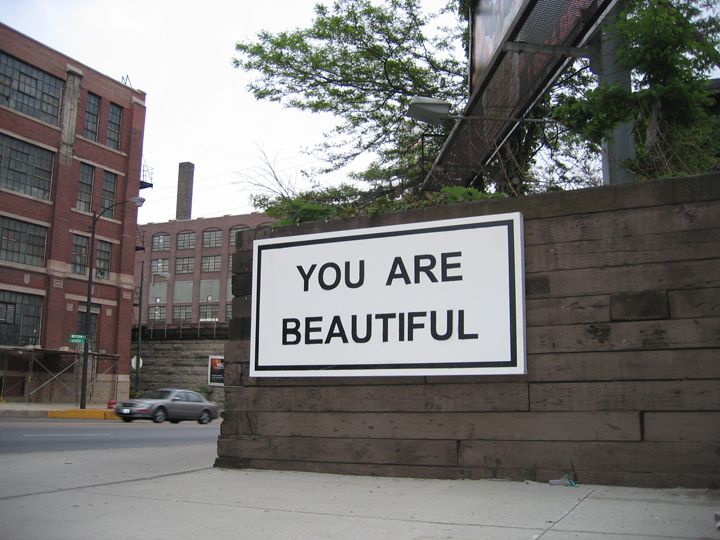 5. mp3 or cd ?
In the cloud, or live in person.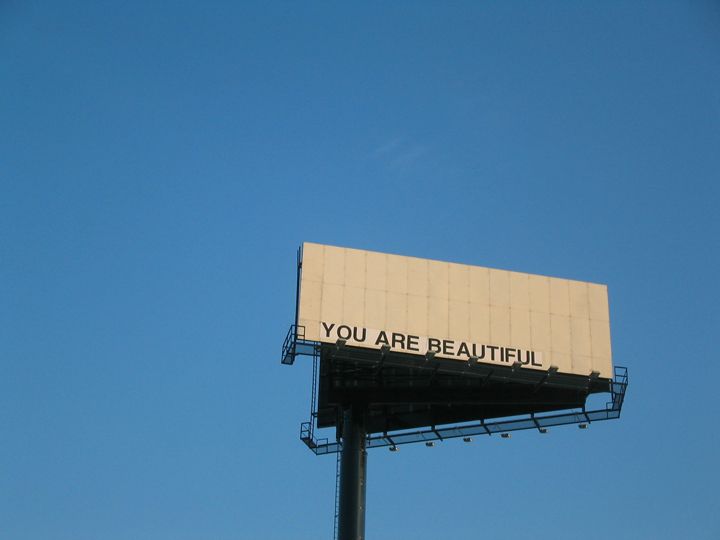 6. what is the last book you read ?
Admittedly, I digest almost all books through my ears. The last book that I literally could not turn off was Linchpin by Seth Godin.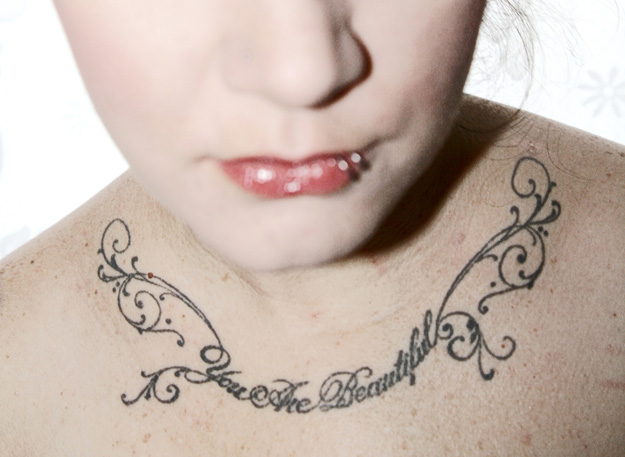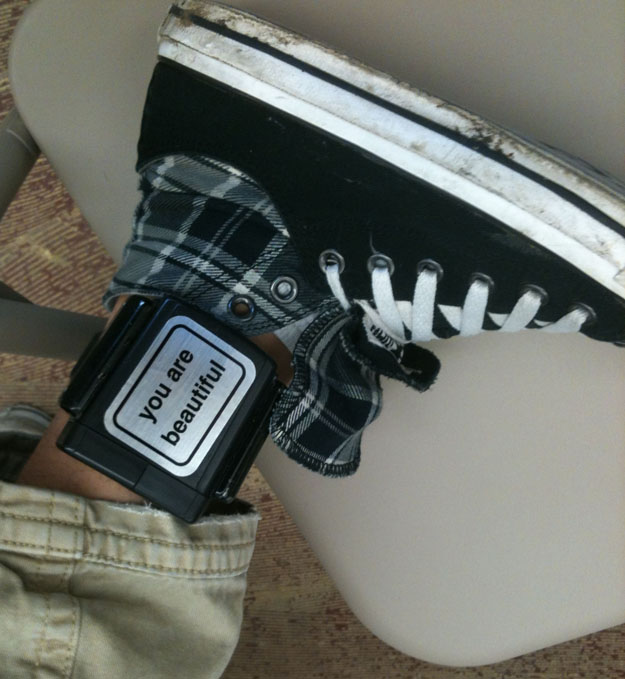 7. tell me 3 artists you like
Nick Adam
Chris Silva
Cody Hudson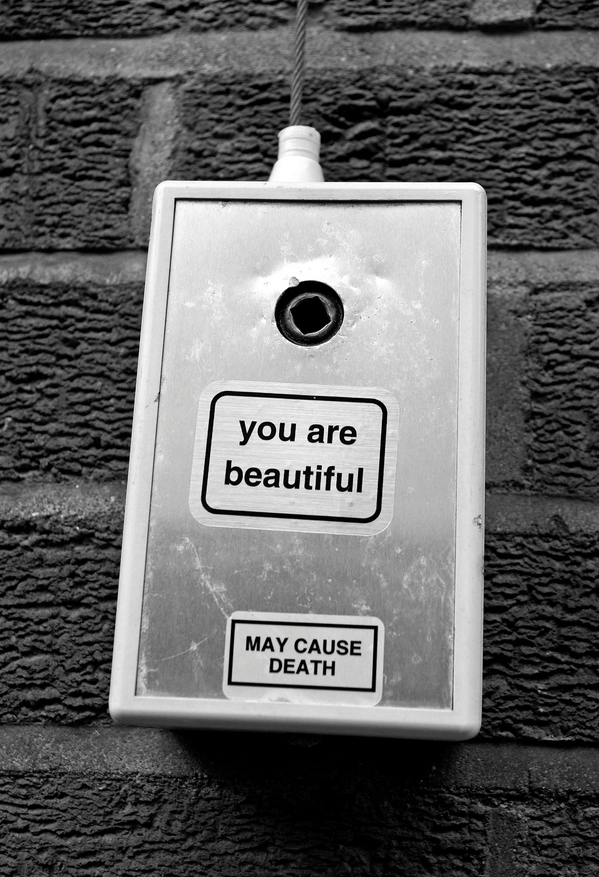 8. tell me 3 websites you like
SwissMiss is always a refreshing break. http://www.swiss-miss.com/
Sagmeister & Walsh (I like to watch them work) http://www.sagmeisterwalsh.com/
You can find some incredible stuff on Behance. http://www.behance.net/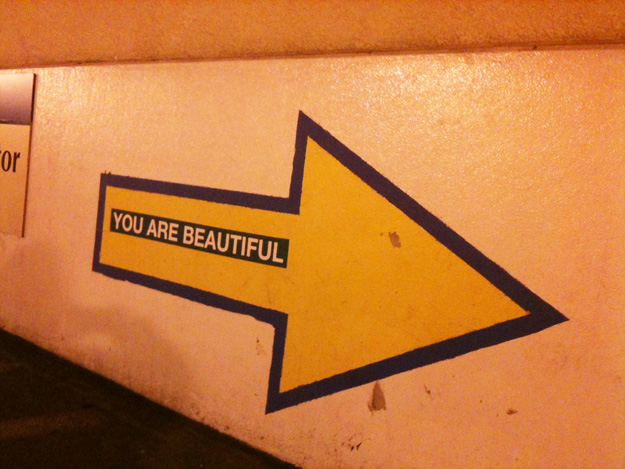 9. what would you like 1000 of ?
Hugs, smiles, & high fives. Repeat.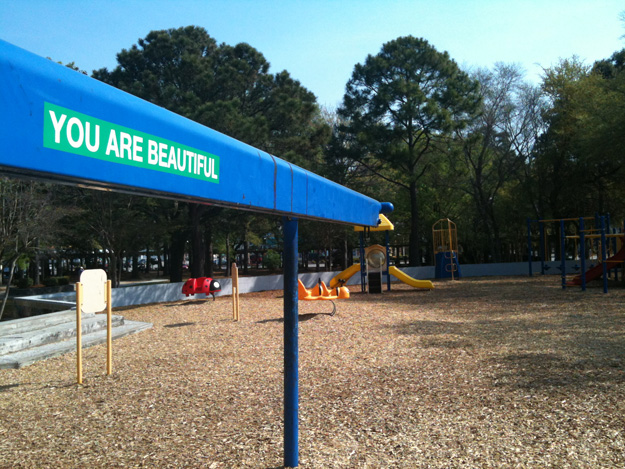 10. what are you working on now / what's next for you ?
Big things! We are celebrating the 10th anniversary of the You Are Beautiful project with a massive exhibition in early February in Chicago. We are using the raw spaces of the Green Exchange, exhibiting 2 massive murals (8′ x 450′ & 10′ x 100′), as well as a host of new work. 
We also launched a Kickstarter to create a book alongside the show, documenting the last decade. I spent a great deal of time crafting the video, and I feel it tells the story of the project (and the mission) better than it's ever been told in the past. The book will go even further, showcasing many images that have never been seen publicly before.
---
Here are some great photographs of various You Are Beautiful Public Mural Campaigns
---
Remember! This wonderfully positive campaign needs our help! Please Donate to the You Are Beautiful Sticker Book Kickstarter Campaign and make sure to visit the You Are Beautiful Website!