On a regular basis we'll ask a new sticker artist a series of 10 questions. To keep things simple and to engage in a deeply philosophical, long term case study of the scientifically complicated "Sticker Artist's mind," we've decided to leave the questions the same every week.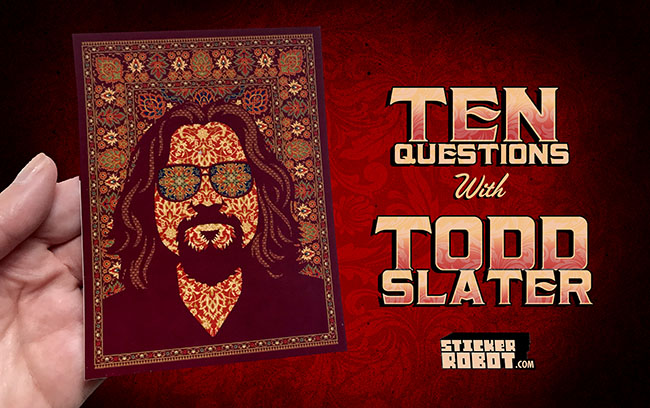 10 Questions with Todd Slater
Ladies and Gentlemen, Robots and Robettes, meet the reigning king of vector gig poster art, the animal (and enamel) aficionado, the silkscreen-sticker-slinging savant, Todd Slater!
Todd has been making highly collectible Rock and Movie Posters for decades and has amassed a huge following of avid collectors. His portfolio of work is unmatched, having created posters for bands from The Beastie Boys, Slayer, Madonna, The White Stripes, Neil Young, Radiohead, Pearl Jam and Green Day… And movie posters for films like The Big Lebowski, Star Trek, Jurassic Park, Evil Dead 2 and Repo Man (some of our all time favorites!) The list goes on and on and on…
We sat down with Todd and asked him 10 questions… So let's get to it!
Note: We are giving away one of Todd's coveted Grateful Dead Posters!! Simply Leave a comment and share this post to enter! Read More →