On a regular basis we'll ask a new sticker artist a series of 10 questions. To keep things simple and to engage in a deeply philosophical, long term case study of the scientifically complicated "Sticker Artist's mind," we've decided to leave the questions the same every week.'
---
Pen in hand, our friend the esteemed San Diego based artist, illustrator and pencil provocateur, N.C. Winters knows his way around a sheet of paper. N.C. draws a lot. He draws from the early morning, over a cup of dark roasted coffee, until the wee hours of morning when he begrudgingly retires to bed. He scrawls on napkins at restaurants and doodles during re-runs of Bob's Burgers. He even draws in the shower with some kind of magical waterproof paper, where many of his best ideas come from..
Wow, you guys were fast. We're all out of N.C.'s Stickers. If you missed out, get in touch with N.C. Maybe he's got a secret stash. Note: We are giving away some of N.C.'s awesome new silkscreen Stickers. (We know they are awesome because we printed them.) Leave a comment and Share this post. See detailsbelow.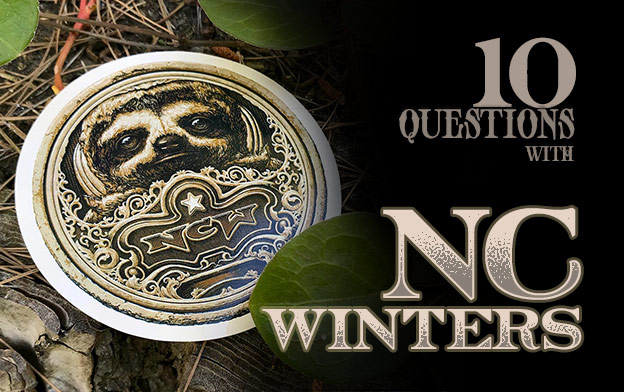 Among his creative pursuits, NC puts a heavy focus on screen prints and posters, ranging from his many self-published art prints to a growing number of concert posters for platinum-selling bands like The Foo Fighters, Primus, and Queens of the Stone Age. He even works on officially licensed movie prints for 20th Century fox, including popular titles like Predator and Alien.
Stickers play a big role in his work too, where he designs silkscreen stickers which he includes with his hundreds of print orders. We had a proverbial sit down with N.C. (his friends call him N.C. for short) and asked him 10 questions about Stickers… Let's get to it.