The local Montessori grade school called and asked us to help skin their custom made Corn Hole platforms.
At first, we were admittedly remiss when the school called and asked us to paint their cornhole for a fundraiser, but after a minute or so it became clear. They had a blank canvas and we had the means to cover it.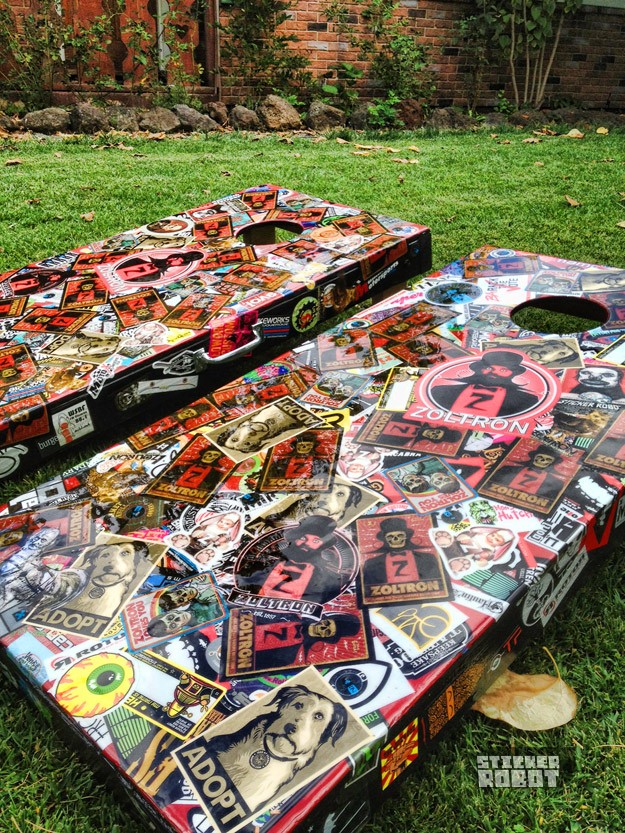 So rather than painting up some standard racing stripes or school mascot logos, we decided to plaster the entire set in awesome stickers that we had laying around the Sticker Robot warehouse.. (Without donning my spectacles, I spy some Obey, Zoltron, Mishka and MTV Barack the Vote stickers…)
So Justin and his crew of creative 5th grade misfits built the custom cornhole boxes to spec, painted them with primer, scored the surface with sandpaper, and then had the kids plaster the entire platform with a plethora of unadorned silkscreen sticker awesomeness. Once it was covered in stickers, the entire surface was shellacked and lo and behold. An awesomely, adhesive-covered cornhole set of star-studded, silkscreen sticker sweetness.
If you live in West Marin, head to the famous Pt Reyes Surf Shop (yeah we print their stickers too..) have a drink, be irie, play some carney games and buy some raffle tickets..
You might end up with the most epic Corn Hole set in the history of the sport…