Danny Martin draws pop culture heroes on "borrowed" USPS labels and has amassed a collection of hundreds of totally unique stickers…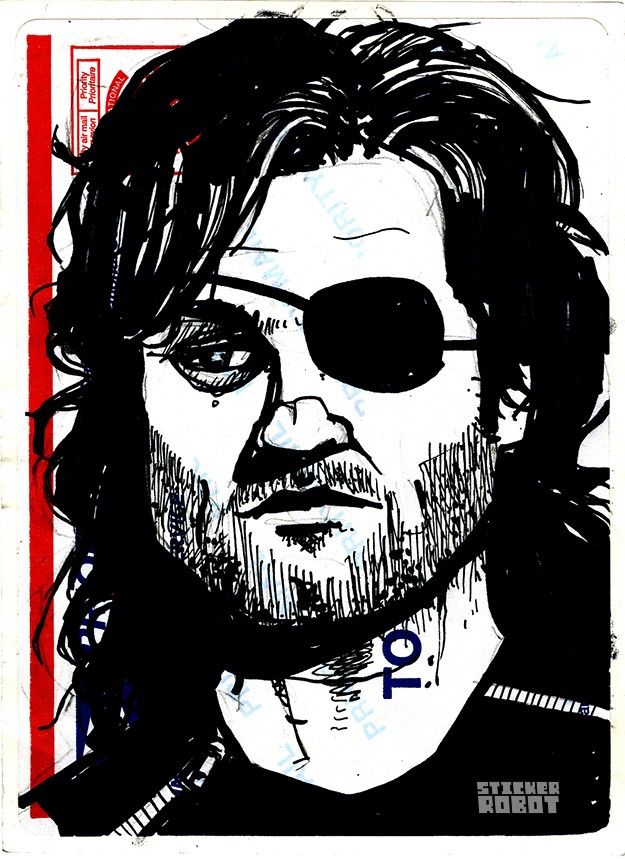 Danny Martin Likes to Draw. Danny also likes movies. And to top it off, Danny really likes Stickers. Click on any image below to peruse Dsnny's homespun sticker gallery. You can dig deeper into the adhesive mind of Danny by checking out his blog, Danny Martin Art. A collection of even more Sticker Art can be seen on Danny's Flickr Page.
You will find all your favorite cult pop culture heroes, from Snake Plissken to Pee Wee Herman. The Stay Puft Marshmello Man to Hightower from Police Academy.
Here's a little more information, direct from Danny. Leave a comment and let him know what you think!
I was born and raised in Alabama (I love bbq and home made peach ice-cream). Ive been Tucson based for the last 7 years (I love carne asada burritos). Ive been doin' printmaking (screenprinting and woodcuts) for about 12 years….and stickers for 10. I try to produce over 50 seperate hand drawn sticker designs each month (in addition to screenprints, stencils, or paste-ups)
anyhoo….
Happy Holidays!
Danny Martin.