In honor of something that is blowing our collective mind over here, having reached 50,000 followers on Instagram !! We wanted to take a sec to talk about our feelings lol.
This may come as a shock to you, but we are not actually a robot…
We are in fact a really small group of humans that are passionate about art (and printing and politics and music and books and pinball and fashion and photography and cats and bad puns…) Over 15 years ago we set out to build a sticker company and we knew that if we were going to do it, it had to be the BEST and that's why we got into screen-printing custom stickers.
---
An Awareness and Approach to Printing
Screen-printing stickers is like the slow fashion or slow food (which is an alternative to fast food culture) of the sticker world. It's a 3000 year old printing technique in a modern age. It requires real people mixing gallons of ink and stretching screens and sharpening squeegees and running film and hand-making dies. It means thicker and more vibrant inks, that last so much longer outside. It is an art form in its own right that requires a tedious approach to detail and quality. Perhaps most importantly to us though, it preserves a way of making and creating that we feel soooooo happy to be a part of! The end product is kinda like listening to your favorite record on vinyl. It's just objectively better.
Having you guys here supporting our process and getting hyped on the creators and makers that print with us makes us feel like we are building an actual physical community in this digital universe. It feels real and powerful and rad and inspiring.
So this is just a HUGE THANK YOU for being here and being our friend. It truly means the world to us. ❤
---
Some Behind the Scenes Sticker Photos
---
Quality First
Our number one goal has always been to manufacture the highest quality, longest lasting stickers on the market.
Because of our unique sticker printing process, we run more coats of ink. Our inks are typically at least 5-10 times thicker than other silkscreen printers and at least 10x-20x thicker than digitally printed stickers.
Each silkscreen sticker is run through the press 7 times! We add 3 clear coats of Gloss UV-Protective ink and 4 passes of color. That, mixed with our special printing technique results in the best and highest quality stickers on the market.
---
Stacks n Stacks o' Stickers…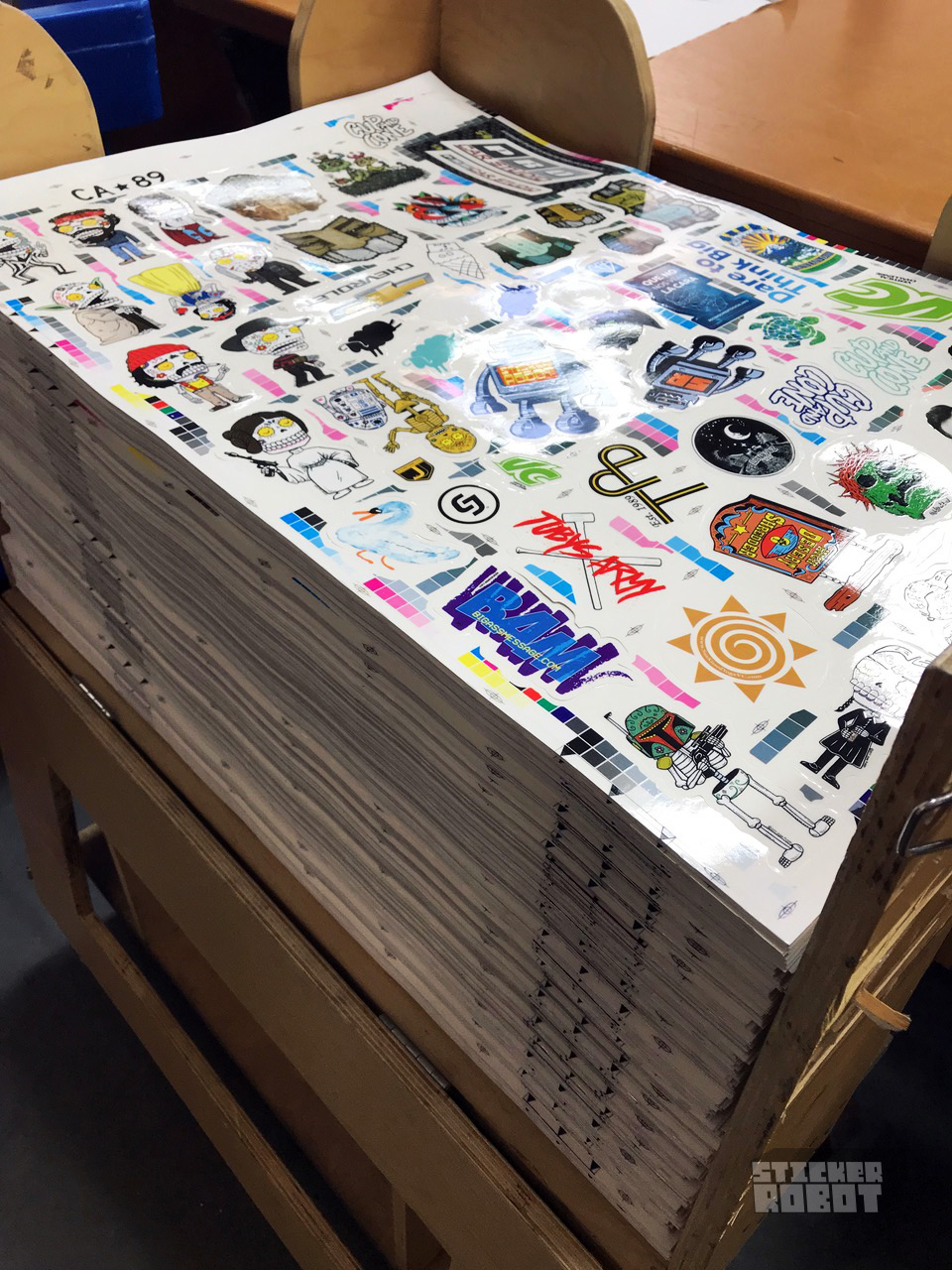 For every silkscreen sticker print run, we take everyone's individual orders, lay them out together on one large sheet, print one set of films, make one set of screens, create one custom die cut per run and print everyone's stickers at one time.
That means that your sticker file, along with up to 30 or so other customers will all print together on one "gang run." We waive the cost of the films and screens, so that customers don't incur those charges. This means that you can get an incredibly high end, silkscreen stickers for a fraction of the cost of typical full color silkscreen sticker printers.
---
Handmade Dies on Every. Single. Print. Run…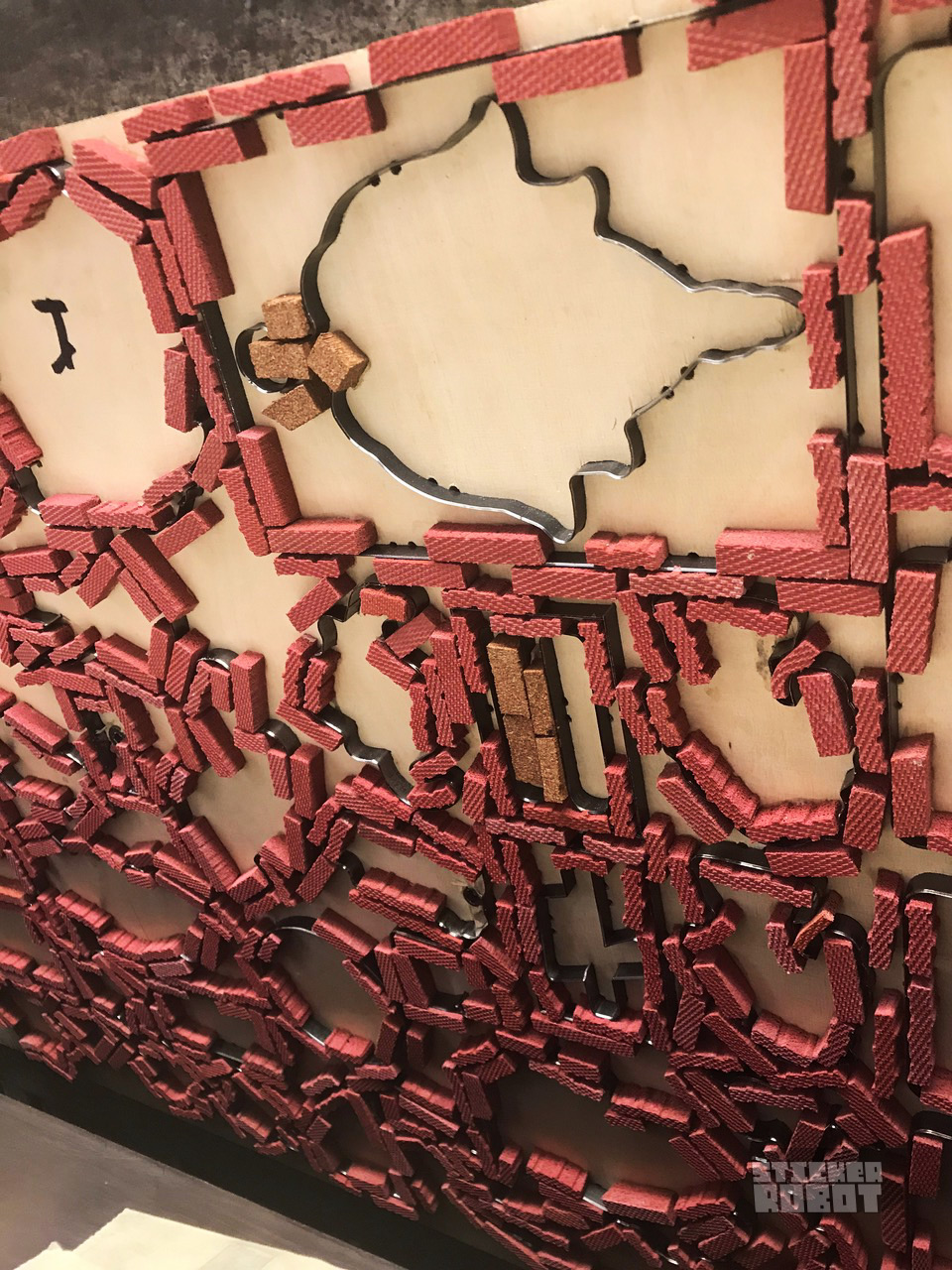 Our company prides itself in it's reverence for traditions in silkscreen. As a result, we hand make each die every single time we do a print run and no two dies are ever the same. See the video above and watch our die cut sticker process. (Warning: It's kind of mesmerizing!) Every single sheet is cut, one sheet at a time, then we pop out the stickers, stack em, seal em and send em to you!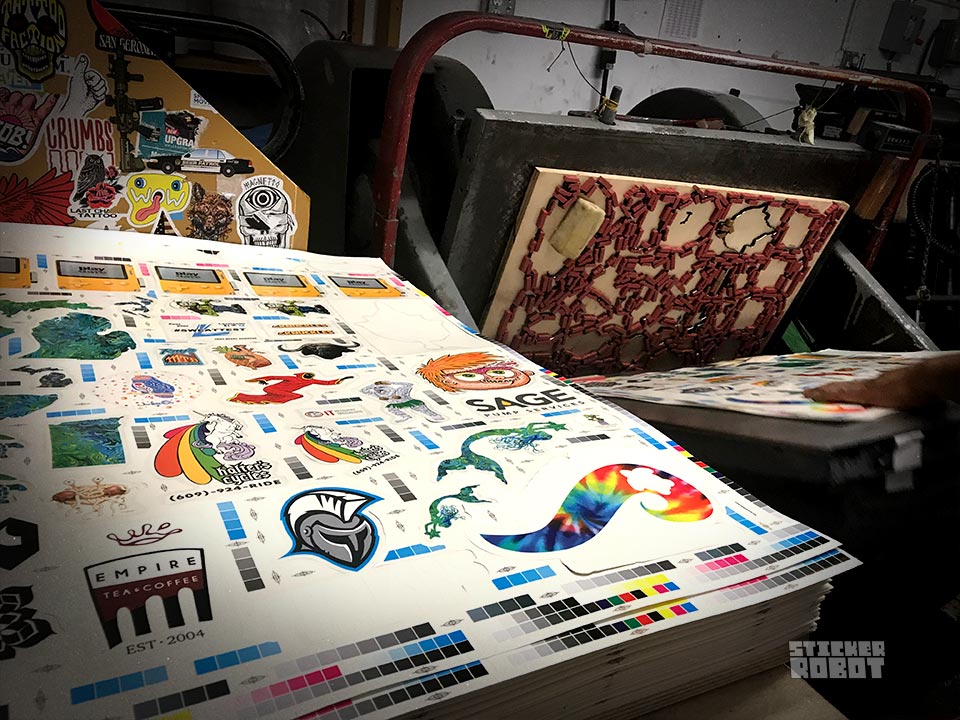 ---
Handmade Dies on Every. Single. Print. Run…
Of course, we do offer quick-turn-around digital printing just like all the other companies, but the difference in quality between digital and silkscreen is undeniable. It does take longer to produce silkscreen stickers, but the quality is superior in every way, including durability, vibrancy of colors, thicker inks & heavier backing and a much much longer outdoor effective capability.
We always implore our customers to order Sticker Samples from lots of different places to see the quality yourselves… We're sure you will agree.
Anyways, we just wanted to share some "Behind the Scenes" of our Sticker Printing Operation and send out a big Thank You to everyone who has helped us maintain this high level of work. We're one of the last traditional sticker printing companies on the planet and we loooooove sharing details about our Sticker Printing process.
---